MEET THE LIFELONG COMMUNITIES ADVISORY GROUP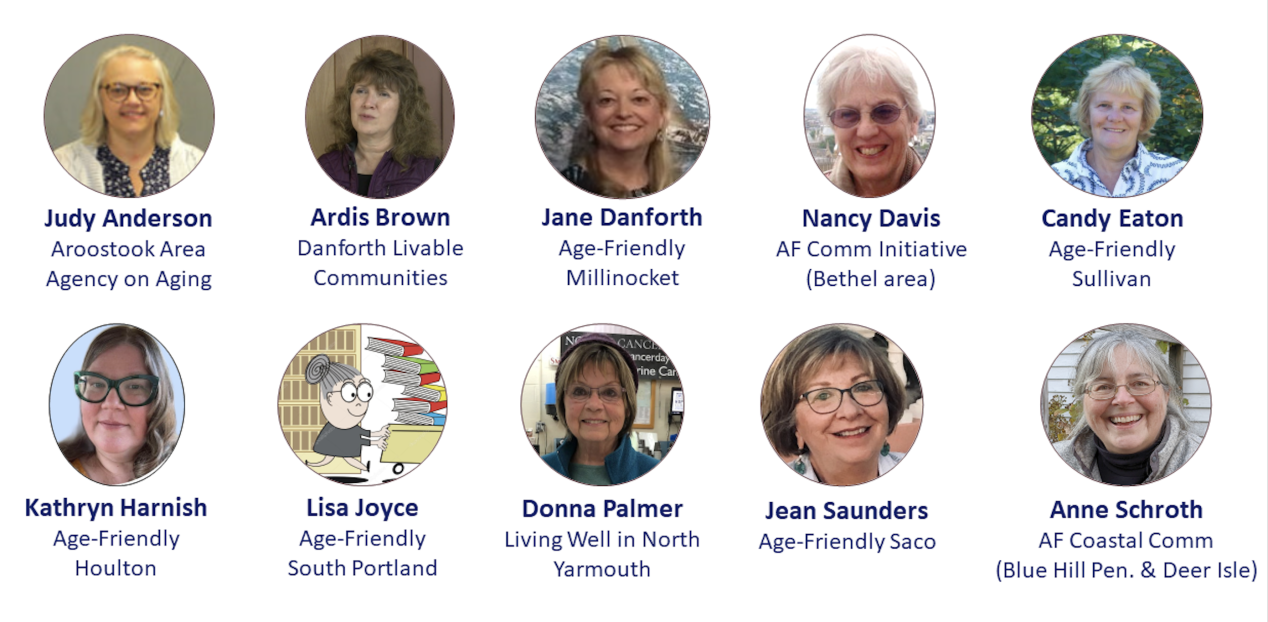 ---
Judy Anderson has worked in the social services field for over 30 years. As the Director of Community and Volunteer Services at the Aroostook Agency on Aging, Judy oversees community programs, outreach, education, health and wellness, insurance counseling, Friendly Visitors, HL4ME, volunteers, and the new Access Points Project. Judy is a graduate of the University of Maine with a Master of Social Work degree. Prior to joining the Aroostook Agency on Aging, Judy provided clinical services in outpatient therapy, home-based behavioral treatment, crisis and emergency services, and brain injury rehab services. 
Ardis Brown is town manager of the Town of Danforth and leads Danforth Livable Communities. The newly developed Danforth Livable Communities Center has been showcased in state-wide media as an example of what a small town with a big heart can do. 
Jane Danforth has worked for Millinocket Regional Hospital for 21 years as the project director for several grant funded public health initiatives.  In 2015, her focus shifted from tobacco and substance use prevention to aging in place initiatives.  As a MeHAF Thriving in Place (TiP) grantee, Jane led local assessment and coalition building activities to address the needs of the Katahdin region's older population.  In 2019, she also led the municipal effort for the town of Millinocket to become a member of AARP's Network of Age-Friendly States and Communities and currently chairs their age-friendly committee.  In addition to her public health work, she also manages the Lifestyle Fitness Center for Millinocket Regional Hospital, is a Town Councilor and is a proud grandmother to twins, Tommy and Clara.
Nancy Davis has lived in Bethel for 50 years and was happy in retirement to spend more time as a community volunteer.  In addition to her involvement in the Bethel Area Nonprofit Collaborative and the Western Mountains Senior College, she was a founder of the Bethel Region Age-Friendly Community Initiative in 2015 and has served as its Communications Chair and President of the Board.  Through her career in education and administration, she has experience in writing and simple marketing.  She has benefitted from her periodic involvement with the NTL Institute in the areas of organization development and human interaction. Nancy and her husband enjoy spending time with their two sons and their wives and their four grandchildren.
Candy Eaton serves as the Coordinator for Age-Friendly Sullivan, an all-volunteer committee established in January 2018. Throughout her career in finance, public health, social and mental health services, she has collaborated with multiple organizations to create coalitions for healthy communities, using an asset-based model for "Getting to Outcomes". Candy served as a member of Maine's Lifelong Communities Fellows program for 3 years, working with the communities of Surry, Caribou and Houlton to advance their Age-Friendly initiatives.  Age-Friendly Sullivan was recently highlighted in a short video created by AARP Maine showcasing the many projects successfully created and sustained for all ages.
Kathryn Harnish leads Age-Friendly Houlton, an all-volunteer age-friendly initiative in southern Aroostook County and currently serves as a Community Fellow.  She recently earned her Masters in Social Work at the University of New England after a long career in the software industry. Both areas merge in her work with the Elder Abuse Institute of Maine, where she works as the Data & Communications Specialist.  With her husband Rob, she owns and operates Took a Leap Farm, a small goat farm and state-licensed creamery in Houlton. 
Lisa Joyce, MLIS, has been the Outreach Librarian at the South Portland Public Library for over 20 years and a few years ago  joined Age Friendly South Portland of which she is now Co Chair. She became a Community Fellow in 2022. Lisa lives in Portland with her spouse. 
Donna Palmer co-chairs Living Well in North Yarmouth with her husband, Steve, and is in her fourth year as a Lifelong Fellow. Under Donna and Steve's leadership Living Well in North Yarmouth has tackled social isolation; encouraged intergenerational sharing; increased pedestrian, bike and motor vehicle safety through innovative traffic calming measures; launched a First Greeter program to welcome new residents to the community, implemented a story walk, and have led a host of other activities designed to increase the livability of North Yarmouth for residents of all ages. Donna has enjoyed working with Berwick, Chelsea, Danforth, and Ogunquit as a Lifelong Fellow and is co-creator of the  Lifelong Communities Publicity Toolkit.  
Jean Saunders,RN ,MSN, MPH is originally from the Central Maine area but now lives in Saco and is helping to coordinate the Age Friendly effort for the City of Saco. She spent her career both as a Nurse and hospital administrator in New Hampshire, NYC and most recently  at Maine Medical Center helping to initiate such projects as Turning Point, a Cardiac Rehab program.  Her interest has  always involved building new programs and she  became very interested in helping the City of Saco join the Age Friendly Network.  Since starting in 2016, Age Friendly Saco has developed multiple service programs such as a program to assist homeowners with small home modifications and repairs in addition to a Technology Handy Helper group that has helped older residents become more digitally connected.  In conjunction with the City of Saco,  Age Friendly Saco helped produce a video on how a simple echo dot might function as a virtual personal assistant.  Most recently Age Friendly Saco has created a volunteer driver program  to provide rides to medical appointments for our older residents. In 2018,   Age Friendly Saco was able to make their public beach accessible with the support of an AARP Challenge Grant to place beach mats at the beach.   In addition to her Age Friendly work, Jean enjoys supporting her husband's electronics manufacturing company as well as spending time with her 3 children, dog, and 2 cats.   
Anne Schroth is the Executive Director of Healthy Peninsula, a job she came to after working with the team for seven years as the Healthy Aging Coordinator, a role which supported Healthy Peninsula's  leadership role in community planning and collaboration. Initially, Anne coordinated Thriving in Place Downeast (TiPD), which developed strategies and partnerships to help older community members and those with chronic health conditions remain healthy and thriving in their own homes and communities. Building on TiPD, Anne coordinated the region-wide Age-Friendly Coastal Communities initiative, whcih she still leads. Anne grew up in Maine but left to practice poverty law in Washington, D.C. and Ann Arbor, Michigan, most recently as a Clinical Professor at the University of Michigan Law School.
Elizabeth Singer works for Cary Medical Center and Pines Health Services in Caribou as a Communications and Community Relations Specialist. As part of this role, she took on directing the Age Friendly Caribou program. For four years, she has been leading age friendly programs and educating the Caribou community about age friendly initiatives. Elizabeth has worked in public relations, marketing and community education for more than 25 years. She learned early in her career that she wanted to work with and support programs that help our communities. She grew up in Virginia and moved to Maine five years ago with her husband (who is a Mainer) and twin boys.