Maine Gerontological Society

≈≈≈≈≈≈≈≈≈≈≈≈≈≈≈≈≈≈≈≈≈≈≈≈≈≈≈≈≈≈≈≈≈≈≈≈≈≈≈
The Maine Gerontological Society is a statewide association of individuals and organizations interested in issues that affect older adults in the state of Maine. The society has the charge of serving as the leading interdisciplinary association on aging.
The Maine Gerontological Society is dedicated to giving equal voice to the diverse aging-related interests of the academic, practice and general communities, and promoting active participation by administrators and planners, policymakers, practitioners, educators, researchers, business people, students, older adults and others.
MGS emphasizes the offering of education and training opportunities for its members so that as a society and in our professions we may be well informed and play an active role in shaping aging policy and services in Maine in the years to come.
Maine Gerontological Society Photo Contest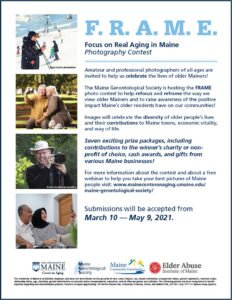 Amateur and professional photographers of all ages are invited to help us celebrate the lives of older Mainers! The Maine Gerontological Society is hosting the F.R.A.M.E. photo contest to help refocus and reframe the way we view older Mainers and to raise awareness of the positive impact Maine's older residents have on our communities! Images will celebrate the diversity of older people's lives and their contributions to Maine towns, economic vitality, and way of life. Seven exciting prize packages, including contributions to the winner's charity or non­profit of choice, cash awards, and gifts from various Maine businesses!
Submissions will be accepted from March 10 – May 9, 2021
For more information about the Photography Contest and free Webinar CLICK HERE
Other News & Information
The Maine Gerontological Society has published a document titled Under the Radar: An Examination of the Unmet Needs of Maine's Aging Population. A primer for Maine policymakers. This resource provides brief overviews of five areas impacting older adults in Maine including food insecurity, supporting family caregivers, senior housing, early onset dementia in individuals with intellectual and developmental disabilities, and elder abuse: Maine Gerontological Society Policy Brief
Join the Maine Gerontological Society
Membership Benefits
Educational Program Discounts
Opportunities to network with other professionals interested in aging issues
Access to the MGS E-Newsletter, Gray Matters
The opportunity to serve as an MGS Fellow, an honorary designation for those who have made exemplary contributions to the field.
Click here to complete an online registration form for membership in the Maine Gerontological Society
Annual Conference & Educational Discounts

The Maine Gerontological Society co-sponsors the annual Bar Harbor Geriatrics Conference held in late spring each year. The conference provides an opportunity to learn about and discuss cutting edge policy and practice issues in the field of gerontology.
The MGS membership pays for itself in conference and educational programming discounts.
Stay tuned for upcoming training and networking opportunities…..

Contact the Maine Gerontological Society
UMaine Center on Aging
25 Texas Ave
Camden Hall
Bangor, ME 04401
kelley.morris@maine.edu
207-262-7925